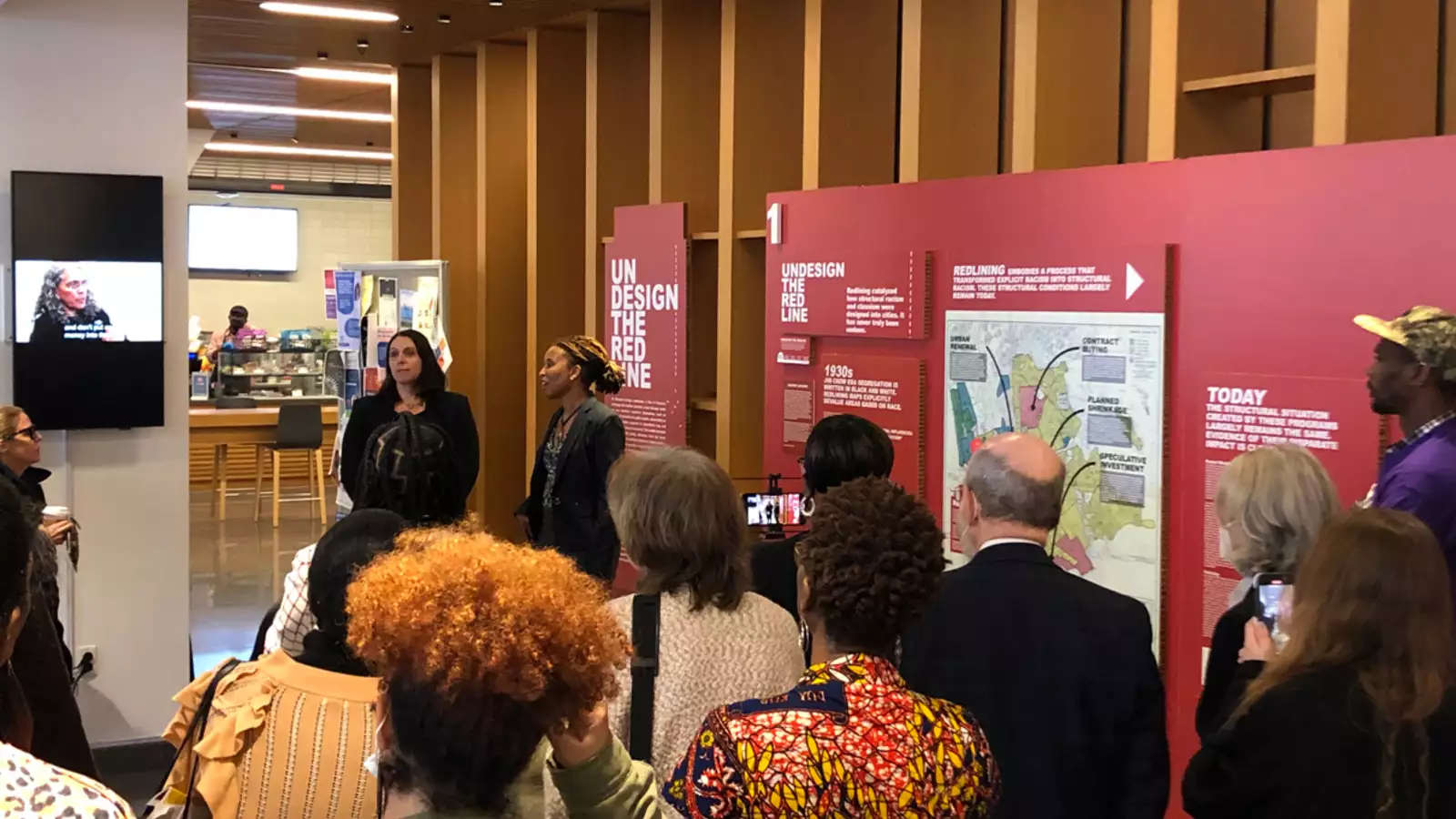 At Barnard, New York City is more than a place in which to study. It's a community. 
One of the ways that Barnard models its commitment to strengthening bonds across Morningside Heights and Harlem is to provide educational opportunities about these historic districts. This includes showcasing the mission-driven exhibit "Undesign the Redline," which opened on campus on September 30, 2021, and was created by April De Simone, co-founder of the New York City-based social designing studio Designing the We. 
Consisting of six large, stop-sign-red panels, "Undesign the Redline" — on display in the lobby of the Milstein Center for Teaching and Learning — combines history and storytelling with community outreach to reckon with the legacy and systemic racism of redlining in New York City. The exhibit was designed to foster increased community engagement, and it has been living up to the task. Since last year, "Undesign" has hosted more than 200 tours that have included community groups, educational classes, faculty, and teachers from around the City.
Spearheaded by Miriam Neptune, senior associate director of the Barnard Center for Research on Women (BCRW), the joint effort to bring the exhibit to campus included Barnard staff, faculty, community members, and students. The stakeholders and a group of Barnard students met throughout 2020 and 2021 to learn together, making redlining central to discourse on campus before the exhibition was on display. 
"I think that this is an important narrative to have in an institution like ours, where many people from many different backgrounds are going to school together," Neptune said during the exhibition's opening.
Watch the video below, featuring Miriam Neptune and others discussing the exhibit.
Inspiring Policymakers
When New York State Senator Cordell Cleare visited campus in October, she was so taken by the installation that she returned a month later, on November 29, with various stakeholders and advocates from her Harlem district. 
"I happened upon the ["Undesign the Redline"] exhibit by chance. I came here to actually visit a program that Barnard had for first-year college students [as the] first person in their family to go to college," Senator Cleare told a packed audience on campus. "After touring the program, I said, 'Let's go into this building [Milstein]. At that moment, I knew that I would be back here, bringing the community [with me]."
And that she did. The November visit began with a tour of the exhibit and concluded with a panel and Q&A discussion that included Senator Cleare; Barnard's Mary Rocco, director of engaged scholarship in the Office of Community Engagement and Inclusion (CEI); BCRW's Neptune; Designing the We co-founder De Simone; as well as senior pastor Dedrich L. Blue, Interfaith Commission on Housing; David R. Jones, president of the Community Service Society of New York; Kevin McGruder, Antioch College's associate professor of history, who was unable to attend and sent a video in his absence; Barika X. Williams, executive director of the Association for Neighborhood & Housing Development (ANHD); and NYC public advocate Jumaane Williams. 
In highlighting the special relationship that Barnard seeks to cement with the surrounding Harlem community, Senator Cleare also stressed the need for more education around housing equality and academic and economic racial achievements.
"We tell our children to go do well, say no to drugs, do [their] work, go to college, come back, and you can live here. [This is] not true," Senator Cleare told the panelists and rapt audience members. "They're doing all of that and then coming back to Harlem, but they cannot live here. So it's more than just housing, it's about legacy. We have to recognize that, and folks, we've got to talk about race."
An Exhibition That Educates and Engages
On Barnard's and Columbia's campuses, faculty have used the exhibit as a tool for students to think interdisciplinarily about housing segregation in other cities as well. For example, urban studies students produced short documentaries about redlining and community response in Cleveland, New Orleans, Philadelphia, Milwaukee, and Flint, Mich. In the Department of Environmental Science, students worked in groups to explore environmental justice patterns in NYC and possible patterns in relation to historic redlining. And in the Department of Architecture's course City, Landscape, and Ecology, students used the exhibit to create the Mobilizing Community for Climate Justice event in the spring, in which community organizers from the Bronx and Newark, N.J., discussed environmental justice and climate organizing for the South Bronx and Ironbound neighborhoods, respectively.
Beyond Morningside Heights, other educational institutions — such as New York University, Pratt Institute, Fordham University, CUNY, and Howard University — have visited the exhibit for academic inspiration.
Over the summer, the campus was abuzz with K-12 teachers and groups eager to learn from "Undesign the Redline," such as the Boys and Girls Club of Harlem and teacher fellows from Barnard's STEAM in the City program, who brought 30 students from their 8th grade class at P.S./I.S. 180 Hugo Newman College Preparatory School. 
The exhibit has also engaged other community organizations from across the City. The Association of Neighborhood and Housing Developers (ANHD) brought their housing membership conference to the exhibit, and the Fifth Ave Committee, Community Board 9, Save Section 9, and NYCHA organizers have visited to explore the history of redlining in housing. 
"Not only does the exhibit provide an in-depth examination of redlining and its harmful legacies that we're still struggling to address, but it also looks at those who resisted — those who fought for change — and shares some of the solutions and successes these communities have achieved despite the systemic racism of redlining," said Chris Dobens, director of communications for WE ACT for Environmental Justice, during their visit. "That is why the exhibit is such an inspiration for organizations like ours, who are seeking to undo these injustices and shape a better future."