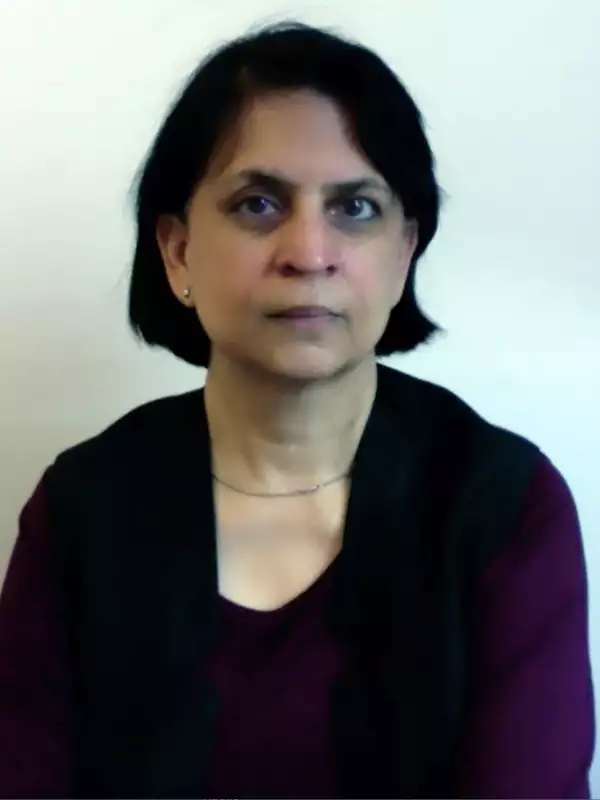 Kadambari Baxi
Professor of Professional Practice in Architecture, Acting Chair AY 2021-22
Department
Office
Contact
CV
Kadambari Baxi, Professor of Practice in Architecture, joined Barnard faculty in 2009 where she teaches design studios and seminars.

Baxi's architecture + media practice is focused on projects where concerns for climate justice, human rights and design ethics spur different forms of architectural activism. Recent works-in-progress: Carbon Decarbon envisions planetary space, (non) toxic atmospheres and frameworks for just global governance; Climate Justice: WTF montages film-clips of protests at the UN climate summits worldwide, and live-courtroom footage of a youth climate lawsuit, on architectural photos of the UN headquarters in New York and the Supreme Court in Washington DC, to provoke monumental mediatic climate actions; Counter-Memorial redesigns the 9/11 Memorial at Ground Zero to account for all victims of the Iraq and Afghanistan wars. WBYA? (Who Builds Your Architecture?), an advocacy group she co-founded, addresses labor exploitation on construction sites and links architectural work to ethical practices. Excerpts from recent and archived work at: www.kbaxi.net.

Using diverse visual techniques to connect dispersed sites and unseen problematics, Baxi's projects offer ways to view architecture from within many other domains and highlight what is often outside its frame. Working frequently with interdisciplinary collaborators, Baxi forms teams on-project basis. For Air Drifts, a multimedia exhibition on transboundary air pollution, her team included designers, filmmakers and NASA scientists. Her works circulates in international exhibitions, publications and forums. Latest exhibits were at the Seoul Architectural Triennale (2019) and Oslo Architectural Triennale (2016). WBYA? research was installed as solo shows at the Boston Architecture College (2019) and the Art Institute of Chicago (2017). Her projects have received numerous grants, most recently, from the Graham Foundation for Advanced Studies in the Fine Arts.

Baxi maintains a research-based architectural practice in partnership with Reinhold Martin. Their work, co-authored as Martin / Baxi Architects, is excerpted in two books: Multi-National City: Architectural Itineraries (Actar, Spain, 2007) and Entropia (Black Dog Publishing, London, 2001). Formerly, she also led a new media design firm imageMachine that worked with large nonprofits, including: Vera Institute for Justice, Center for Court Innovation, The Architectural League, and others.

At Barnard and Columbia Colleges architecture department, Professor Baxi has spearheaded senior design studios that traveled to China, Germany and Jordan for research on architecture, diplomacy and climate change. Her other teaching initiatives have focused on innovative pedagogical methodologies for incorporating new media technologies in architecture courses. She has collaborated with interdisciplinary faculty across campus in anthropology, astronomy, film studies, science and graduate architecture departments. Her teaching and research  activities were awarded grants from Barnard Teaches: Real Place + Digital Access, Mellon Foundation Grant and Barnard Presidential Research Award.   
M.P.S, Interactive Telecommunications Program, New York University
M.S., School of Art and Design, Pratt Institute, New York
B.Arch, Center of Environmental Planning and Technology, Ahmedabad
Architecture and Media
Climate Change and Environmental Visualization
Activism and Diplomacy


​
Recent Articles (Available Online)

"Studio Diary," in "Field Notes on Pandemic Teaching," Places Journal, 2020

"Notes on Kochi (Biennale) and Katowice (Climate Summit)," The Avery Review, 2019.

"Design Construction Networks," Who Builds Your Architecture? (WBYA?), Ardeth, 2018

Books

Multi-National City: Architectural Itineraries (with Reinhold Martin, Actar, Spain, 2007)
Entropia (with Reinhold Martin, Black Dog Publishing, London, 2001)